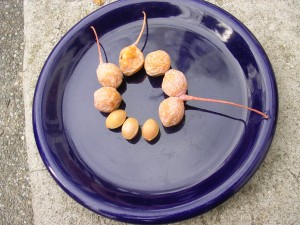 Live guest!  Tem Blessed joins us to talk about his upcoming show on VFR.  Soon he will be alternating the Wednesday 4-5 pm hour with me, with hip-hop music and environmental themes.
There's a short interview with pollworker Dick Clark of Florence.
And I have observations of American Indian representations in historical markers, gravestones, and National Park displays.
Also there is gingko stinko fruit in the studio, smell it!  And eat the nut.
And to close the hour, you'll hear a clip from a talk at Smith College last week by Lourdes Ashley Hunter, from the DC-based Trans Women of Color Collective.